Back To Blog
Usually when one think of locking cabinets, they are thinking of child safety. However, cabinet locks are used for much more than child safety in the kitchen and can be used on a wide variety of cabinets. A common place to find cabinet locks is on filing cabinets. These are great to have installed when you are holding on to sensitive documents in a business place, or even in your own home. Although many filing cabinets come with a lock installation kit, sometimes it is better to have a locksmith do the work for you. Doing so will ensure the lock is secure and functioning properly.
Types of Cabinet Locks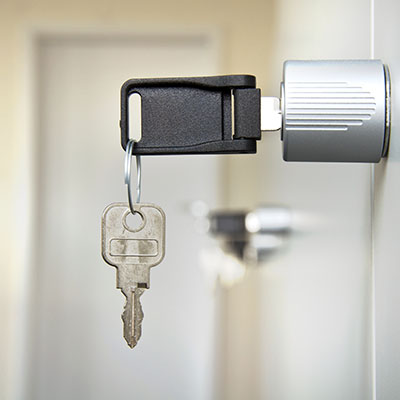 Like all locking mechanisms, there are several cabinet lock models to choose from. The most common cabinet lock installation kit includes a keyed cam lock. This is the standard lock you will see on business filing cabinets. However, these locks have one major downfall in that they tend to break easily and have common master key systems. The same is true of padlock key systems.
If you are looking for a more secure cabinet lock system, you will want to consider a keyless combination lock. A keyless combination lock is exactly what it sounds like - a standard locking mechanism that can only be opened by entering the right code. Some of these models will use a regular keyed cam lock as a backup should you ever forget the code, but a keyless entry lock offers higher security.
Similar to cabinets, many home safe installations employ the use of a keyed cam lock or keyless entry system, with some combining both for maximum security. Since safes are designed to provide a highly secure place for your most treasured possessions and documents, you may also want to consider installing a chest or lid lock. These locks are nearly impossible to break in to and often deter potential burglars.
Aside from filing cabinets or safes, these same locks can also be installed on mailboxes. In fact, most P.O. boxes use a keyed cam lock. It is also possible to install one of these locks on your own mailbox, especially if you regularly mail or receive highly sensitive documents. However, check with your lock post office or landlord before installing the lock to make sure it is permitted in your area.
Cabinet locks have a variety of uses, from child safety to heightened home security. Depending on your needs, any of the above options will be a wise purchase.